Are Decals or Stickers on a Laptop Unprofessional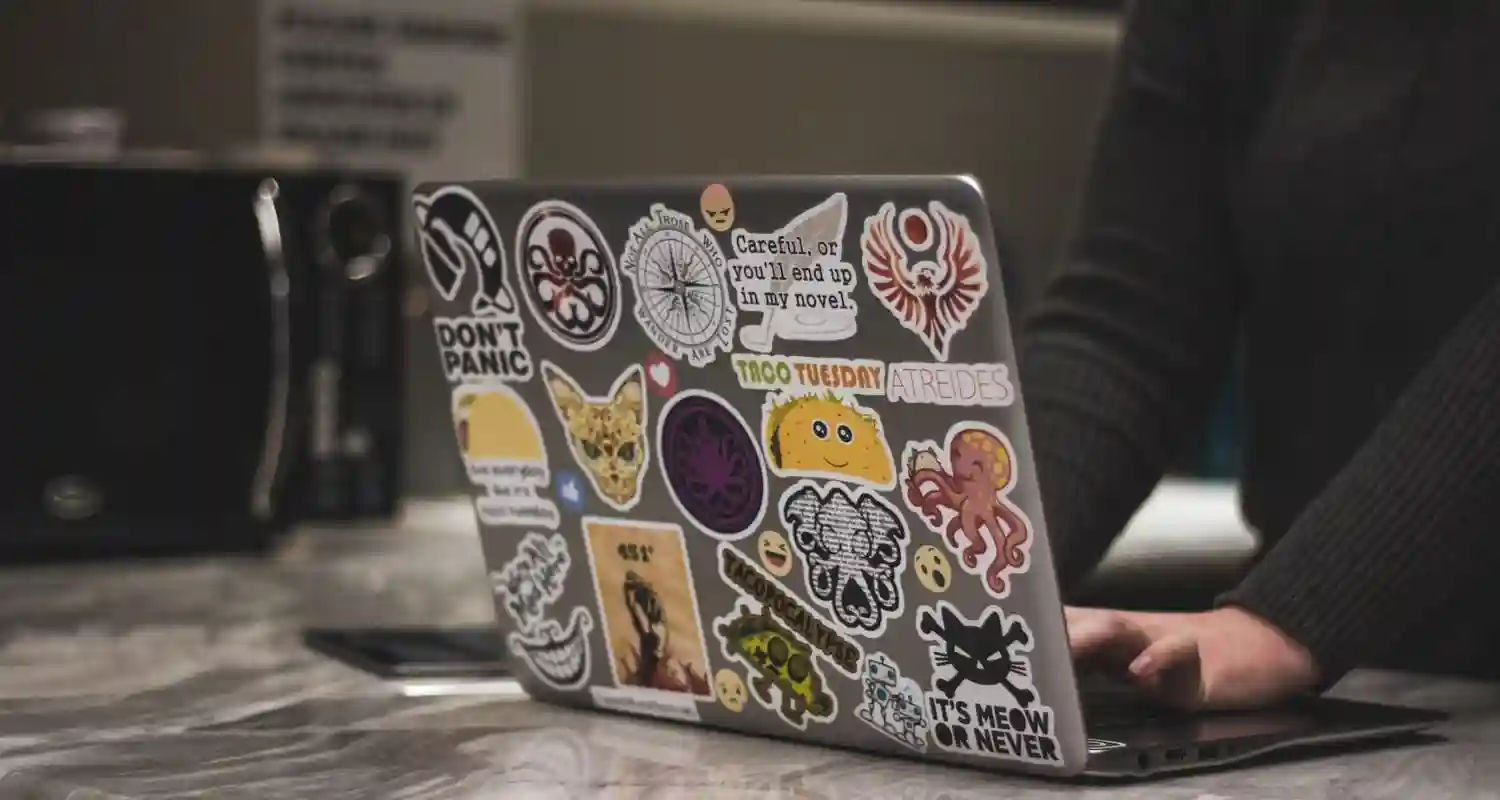 Do you want to know are decals or stickers on a laptop unprofessional? Some people love to put on stickers or decals on their belongings especially on laptops because it makes them feel unique from others.
In my opinion, whatever you do or put stickers on of any kind, they reflect your personality. You'll definitely notice people around you who use customized or some movie or game characters keychains or phone cases as well however putting stickers or decals on your laptop is in trending nowadays.
But I think people are quite confused regarding stickers.
Some have this perception that stickers look unprofessional on laptops and others think differently. In this article, you'll get the answers to your questions regarding are decals or stickers on a laptop unprofessional or not.
Secondly, there will be discussed some other interesting facts about stickers like what kind of stickers you should use plus where you should place them.
Just stick to this article till the end!
You May Also Like: Keep your laptop cool in a hot car: How to keep your laptop cool in a hot car
Putting Stickers on a Laptop Case
When you have high-quality and expensive machinery in form of a laptop or PC then I think it's important to ensure the best place for the placement of the stickers because peeling off even will not be a matter of concern.
In my opinion, the safest place for putting the stickers on is the out shell below the keyboard if you guys have a keen interest in decorating your device.
Obviously, you should choose a surface that won't cause any damage to your device in the future when you'll need to peel off the sticker.
See, it's not bad to put on stickers on your laptop, you can place them according to your requirements and interests however don't place too many stickers or decals on the laptop case plus also make sure to look around yourself like people or the environment and then accordingly, you can have a personalized laptop which also says a lot about your personality without damaging your device. 
You May Also Like: Keep your laptop cool when using it on a bed: How to keep your laptop cool on a bed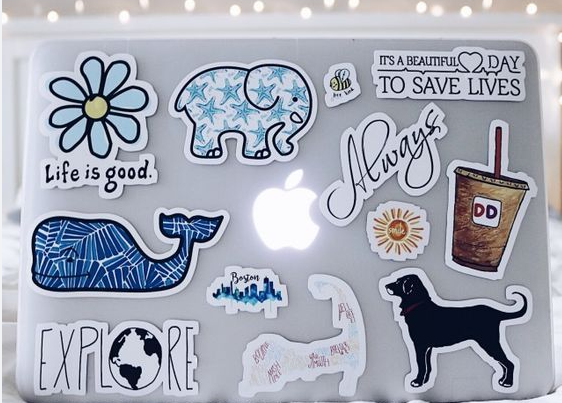 Why Stickers are Put on Laptops and are they Unprofessional in the Workplace?
People place stickers just to show off their uniqueness or some for a glamorous look at their belongings. According to me, when you put stickers on your laptop, or you personalize something else, that actually describes not just your personality but also your way of thinking or mindset as well.
Individuals might feel that it looks cool putting decals or stickers on your laptop but do you guys know whether they are bad or not?
I think before doing anything, especially personalizing your devices with stickers, you should keep in mind a few essential things. Laptop users actually use stickers because that's an extension of how they are, what they are, and who they are.
There is nothing bad in that however you should consider in which environment, you are doing such stuff.
Look, in stickers, there can be anything such as any brand logo, any statement or name, and tattoo. And each thing tells about you differently.
Now, the second question is whether stickers are unprofessional in the workplace or not. Here, I will again say that it depends on the environment, individuals around you, the type of stickers, and their placement too. In short, there are lots of things to consider. Let's get into further details!
What are the Considerations for Laptop Stickers?
As I have already mentioned that when you guys come up with this question are decals or stickers on a laptop unprofessional, then trust me it depends on a few important factors which you should definitely consider before putting stickers on your devices.
I mean, it also won't bother you or others, and you should research well, that's why keep reading!
Determine the Environment of the Work Area
Alright, this is the first factor that you need to consider. You should look around whether other people have placed the stickers on their laptops and how you feel.
One more thing, you should also analyze the placement of stickers plus how they have decorated their laptops. Not only this but the types of stickers or decoration matter as well.
According to the environment, the manners of putting or using stickers vary you need to adapt accordingly. For instance, if you are in a school then you may use stickers however if you are working in a professional environment then I will recommend just going with others.
For that you will have to keep an eye on them and keep inspecting and on the basis of your observations, you can choose the best for yourself.
Moreover, you should be careful to avoid sensitive issues just as politics and rest, you may put on stickers according to the nature or interests of your co-workers. Ensure to not place any offensive content or characters on your laptop. 
You May Also Like: Use the camera on your Lenovo laptop (Windows 7): How to use the camera on a Lenovo laptop (Windows 7)
The Company Policy
The environment does matter however the company's policy also demands enough attention. Sometimes, some companies do not allow to users that they place or use any kind of stickers or decals on their devices such as laptops, I mean it's included in their policy.
When you are working with such companies, you should also keep in mind their policy while using stickers otherwise it will present an unprofessional attitude.
Do you know why companies have such policies? Because they want their employees to present a professional image as they are at the workplace especially when are in customer-facing roles. If an employee has put on stickers on the laptop then it will put a wrong impression.
However, you can notice that designers or managers give their own touch to their laptop's decoration. In my opinion, when you place stickers on your device, it actually offers more creative progress in technology, startups, or marketing as well.
Work laptop Vs Personal Laptops
Placing or using decals or stickers on your laptop depends on whether you are using your laptop or a work laptop.
As you can find companies already provide laptops to their employees, especially tech ones. Obviously, there is no point of using stickers on a laptop that is given to you by the company because I think it's totally unprofessional.
Personalizing your personal laptop is an acceptable thing however when it comes to working or company laptops then you should avoid such things.
Furthermore, there is a possibility that tech or machinery companies do not allow personal laptops because of privacy or data concerns.
Here, I will say that in such situations, if you are personalizing your own laptop, there is nothing wrong because that won't reflect unprofessional as you can use it in any other location except your workplace.
Internee Vs Full-time Employee
When it comes to internees and full-time employees, things work differently. I mean for employees, the company's policies are rules are strict and mandatory however for internees, it's not strict or hard to follow that much. If they are putting on stickers or decals, that won't give an impression of their unprofessional image.
There is one more thing that the company expects more than the internees to be professional and follow all the rules plus policies. In my opinion, you can take it as Adult vs Child's behavior.
You will find that some executives who are at the top rank, don't like over-decorated laptops. Because they consider it unprofessional plus I believe when you put on stickers everywhere on the laptop, it looks messy and unorganized.
See, it's your loss because the managers will hesitate while handing-over any task to you. It's very obvious that you should choose appropriate stickers.
Additionally, you should also avoid bringing your laptop when you are going for an interview because decals and stickers on them give an immature vibe.
You don't know what is the Mindset of the interview, and he may consider it unprofessional. In addition, in such a situation, you should take a step very carefully. 
You May Also Like: Resolve Hulu issues on your laptop: Immediate fix for Hulu not working on your laptop in 2023
What is the Best and Worst Placement of Stickers?
This is the main concern. Let's suppose that your environment or company allows you to use stickers or decals on your laptop then how should you decide the best place for their placement?
See, you should know what place is the worst or best for stickers or decals. Let's explore it more!
The Best Placement
If you wonder what's the best placement for the stickers then you can go for the top clamshell, or you can say the back of your laptop on the opposite side of your screen.
It's quite obvious that stickers can only adhere well on a durable, tough, and fat surface. Plus, it also won't cover any part of your screen or other components of your device.
If you don't want to go for the first place, there is another option for you. I will suggest always choosing flat surfaces for stickers on your laptop. Below the keyboard or to the mouse side of your device is the best place to put on the decals or stickers.
You might have noticed the brand's labels on your laptop but if you are going to use stickers then you can simply remove them.
Likewise, there are some laptop users who don't want to show their personal stickers to anyone then you guys may go for the interior surface because that's the best option for you.
Trust me, this doesn't end here because there are some worst placements that present you as unprofessional or immature. Keep reading!
The Worst Placement
If you don't want to show yourself as unprofessional, then you should make sure to avoid placing stickers other than flat surfaces on a laptop otherwise that will cover the important area such as the screen, keyboard, or in-built mouse.
In my opinion, you need to keep in mind that you don't cover the ventilation holes or other open areas.
I'm sure that you may have noticed, when you use a lot your laptop or your device is too old, it will get heated however if the ventilation system is working well then it will cool down your device automatically.
One more thing is that GPU, processors, and memory card actually get hot quickly, that's why you should prevent closing any area which should be opened. 
You May Also Like: Stream music from phone to laptop via Bluetooth: How to play music from phone to laptop via Bluetooth
When and Where is it Appropriate to Put Stickers on my Laptop?
In my opinion, this is one of the important things you should consider. It's quite new or may be weird to you, but there are different timings for putting on the stickers however appropriate.
While using any kind of sticker, it's crucial to use it appropriately so that it doesn't harm or damage your device because the safety of your laptop is important at the same time.
Laptops are expensive and come with brand logos or labels, you should place the stickers carefully. Actually, some user just put decals or stickers on the brand's logos which affect its look. As I mentioned above that the category of stickers on the laptop reflects your personality.
Furthermore, others can easily guess what type of person you are through your sticker collection.
Of course, people use stickers relating to their interests or affiliations. This is how they are identifiable in a crowd and their decorated laptops also throw light on their personalities too.
In short, I will suggest using such decals or stickers which don't make you unprofessional or immature in front of others, especially at your workplace.
When and Where isn't it Appropriate to Put Stickers on my Laptop?
In my opinion, it's important to keep your laptop clean because the more simple it will be, the more it will be elegant. Plus, sometimes you want to sell your device or may borrow from others then your laptop should be clean and there shouldn't be any stickers or decals.
Due to a messy or uncleaned laptop, its value gets affected or may need repairs.
Additionally, there is nothing worse when you express yourself however you should avoid things which become cause others discomfort while using your device in a public place.
I understand that some people just place stickers to grab others' attention towards them, but you know that you should do things according to the surrounding environment. 
You May Also Like: Pair multiple Bluetooth speakers: How to connect multiple Bluetooth speakers
What Type of Material do you Work With?
In my opinion, you should be aware of whether putting stickers on a laptop is good or bad that's why It's crucial for you to figure out what type of materials you are working with. Let's get into the details!
Material of the Laptop
You know what a laptop is a portable personal computer that allows you to open and fold it. Further, a laptop is made of materials such as aluminum with steel and other metals.
However, you can see that some old models' outer shell is manufactured with plastic plus the shell body offers durability, and it's light in weight.
Material of Stickers
In the market, you'll find one side of stickers made of plastic, paper, or maybe vinyl. To make stickers adhesive, a waxed paper liner is attached for the protection of the other side.
It stays there until you don't use or place it in your desired place with a little pressure. However, with the passage of time, stickers also have evolved in this modern era.
Some people are fond of scrapbooking and stickers that are used in them are kept upgraded. Likewise, first, it is made with a standard thin plastic however now, you can find 3D, acrylic, fabric, epoxy, or you can say puffy but with glitters. Like normal stickers, such stickers also come with an adhesive bottom side. 
You May Also Like: Stay connected without Wi-Fi disruptions: Why does my HP laptop keep disconnecting from Wi-Fi?
Are Plastic, Metal, or Glue Safe and Compatible With Laptops?
Of course, it's your choice how much you decorate your laptop, or you just leave it simple and elegant. However, if you like to personalize your laptop with some sort of stickers or decals then it's important for you to make sure whether it's safe for your laptop or not.
Because sometimes, people just overly decorate their laptops with inappropriate stickers or other stuff which actually looks messy and unprofessional. Along with your unique ideas regarding decorating your device, you should also be sure about the protection and compatibility of your laptop.
Let's just explore it in more detail!
First of all, all the things depend on the material of your device and then the material of the stickers you are using because things vary from sticker to sticker or laptop to laptop.
Let's suppose, you possess a typical laptop that is lightweight along with a plastic outer shell cover, on that you can go for some basic stickers on its surface.
Additionally, there are different types of stickers and their quality varies accordingly. For instance, some stickers offer an industrial strength glue just like epoxy or maybe Gorilla Glue.
Such stickers can be bonded with glass, steel, and wood easily. One more thing that these stickers provide is durability plus are powerful enough.
In my opinion, you should not put on such stickers on your laptop at least otherwise they will bother you whenever you want to peel them off.
Which One is Better to Use: Paper Vs Plastic Sticker?
If you ask me about paper stickers, they come with more substance on the bottom side as compared to the front side of the decal.
When you place such stickers on your laptop, they get stuck and during struggling to remove them, they actually leave some messy particles. Even if you still clean that mess, you need to scratch your nail or will have to go for a tool that can definitely cause damage to the surface.
You might have experienced that the cheap labels or price tags just left a pulpy mess when you try to peel them off. In short, paper stickers aren't compatible or safe for your laptop so avoid using them.
Now, if you talk about plastic or vinyl stickers, they are not just glossy but also durable and trust me ideal for the laptop's surface. In case, if you want to go for plastic or vinyl stickers, you can place them without being worried about your device's safety.
In addition, you know what not all stickers are made for laptops because the stickers which are used in scrapbooks are totally different. Plus, you may go for bumper or brand stickers because they are kind of safe.
The next factor about stickers is how to remove safely them from the surface of the laptop so that it doesn't look messy. Let's dive into the details!
You May Also Like: Connect an Infocus projector to a laptop: How to connect an Infocus projector to a laptop
How to Remove a Sticker from your Laptop Properly?
Alright, sometimes it happens that you just put on the stickers on your laptop's case but after some time, you just feel that isn't looking good, or you want to replace it then you feel the need of peeling off the sticker.
Do not come up with the thought that a sticker is equal to a tattoo. It is recommended to use paper stickers because those are easy to peel off.
If you have used paper stickers then go for Goo Gone, a product, that will just break down the stubborn glue of the sticker, and it will be removed easily.
However, this method is quite messy, so I will suggest not using this one. Moreover, some stickers are stubborn, so you need to use a tool or fingernails to peel them off however it can damage the surface.
The best method of removing the adhesive stickers or decals is to peel them off in one go, if something remains then remove it gently. After that, you can wipe off the left one with rubbing alcohol. Avoid using oils or petroleum products on your laptop because it may damage it.
Further, there is one thing which you should keep in mind apply the stickers on an appropriate spot, so removing them won't be a concern plus it won't bother you.
FAQs
How can I put stickers on my laptop without ruining it?Can decals be put on laptops?
Yeah, you can use decals on your laptop because they come with durability and are also used on other items. You should place them on a smooth surface so that they stay there properly. If you are worried about its removal then don't worry because decals are quite easy to place and easy to remove. 
Why do people put stickers on their laptops?
People have actually different purposes for using stickers on their laptops. Some users decorate their laptops because they want to present a unique look instead of a simple and traditional appearance. Stickers or decals show each individual's personality because people place or choose such stickers which can be related to themselves so that they personalize their devices.
Is it OK to put stickers on Macbook? 
It's fine to put stickers on Mac however there are some appropriate ways to do so. In my opinion, you shouldn't just directly place your stickers on your MacBook because they become a cause of residue, and trust me that looks horrible. You can clean it when you remove the sticker but faded imprints will still be there. 
Can you trade in a Mac with stickers on it?
No, trust me it's a bad idea because other than the performance or quality of components, the cleanliness of the laptop also matter otherwise the value will be decreased. If you are going to trade in your Macbook then you should remove all the stickers and clean all the mess due to the stickers on your device before you go to trade in.
How can I put stickers on my laptop without ruining it?
For that purpose, you need to choose a surface or place which doesn't ruin your laptop. You can apply the stickers on the top of the clamshell or maybe the backside on the end, and they can be adhesive effectively there. This is how stickers won't be a problem for the keyboard, screen, or other features. 
What stickers are safe for laptops?
There are different types of stickers available in the market however you should choose ones that are safe and compatible with your device. Paper and plastic stickers; I will recommend going for plastic ones because they don't leave messy particles when you remove them, and they are safe as well. Some people use scrapbook stickers on their laptops which is not acceptable. 
Conclusion
Everything you do actually reflects your personality and the same case is with stickers that you put on your laptop.
Putting stickers or decals isn't bad however you should avoid over-decoration on your laptop because that presents an unprofessional and immature impression which is of course not acceptable especially at your workplace.
It doesn't mean you can't put on even a single sticker, however, there are a few things which you should consider such as the environment, the policy of the company, you are a full-time employee or just an internee plus you are using your own laptop or work's one.
In my opinion, this isn't enough because you should also know which place or time is the best for the placement of stickers.
Sometimes, it happens that the material of the sticker and laptop doesn't fit properly, here you should make a decision to choose stickers accordingly because stickers do just not describe your personality but also what you think.
Are decals or stickers on a laptop unprofessional? Once you have the fundamental information or analysis of your observations, you can go for placing stickers on your laptop!