Oh going to vacation, or a business meeting on a car and just got your laptop with low battery and want to charge it but don't have any information or right way to how to charge a laptop in a car? and don't even know that can laptop charge in a car?
So yes you can with easily.
You can easily charge your laptop in a car, thanks to modern technology, there is an electronic device which is going to help you during this problem named as Car Power Inverter don't worry my fellow truck drivers you can this Device as well.
You May Also Like: Connect a camcorder to your laptop: How to connect a camcorder to a laptop
How to charge a laptop in a car
So the simple guide is you will some very basic equipment which every day to day car user use, a Car Cigarette Lighter socket yes with Cigarette lighter socket you can charge your laptop. And if you don't have any Socket in your car or for some reason it not able to supply currents so method two is for you.
Hey, where are you going to plugin Laptop Car charger in Cigaretter Lighter socket? It will not work for you because cigarette lighter is only able to supply 12v not more than that and you need more than 60V according to your laptop charger to easily charge your laptop.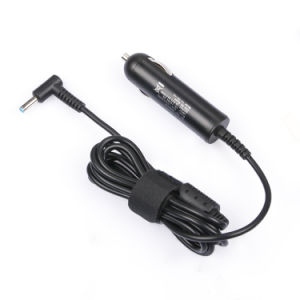 So wait You need one more thing to finalize your procedure, a Car Power Inverter.
Some recommendation from laptopified to select Car Power Inverter
GELOO 300W Power Inverter, DC 12V to 110V AC Car Inverter
BESTEK 300W Power Inverter DC 12V to 110V AC
Soyond 1 Red 150W Car Power Inverter DC 12V to 110V AC
---
DieHard 71496 425/850W Power Inverter
BESTEK 500W Power Inverter DC 12V to 110V
POTEK 500W Power Inverter DC 12 V to 110V
So If you notice that there is two type of inverter one with Car Charger Adapter and other with Alligator clip (Red and Black Wire) So what you have to do now.
There is maybe one situation that your car cigarette socket is damaged or not able to supply any electricity to the power inverter, So the second method is useful for then.
You May Also Like: Keep your laptop screen and keyboard clean: How to clean a laptop screen and keyboard
First Method
In this method you need a power inverter to plug in to the car cigarette lighter scoket and then changed the watts which recommend for your laptops according to the charger if you don't know the suitable watts or voltage so just look on the laptop charger brick for recommended watts and also check AC voltage which is suitable for you laptop well laptop usually charge on above 60AC v.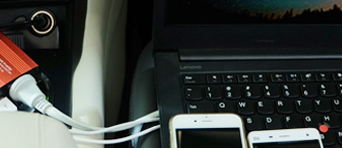 So make sure to select the recommended Watts and ACv according to your laptop
Second Method
So if your car cigarette socket is not working for some reason so you need to get a Power inverter with alligator clips because your socket is not working so How can you power the Inverter?
By using Alligator Clips, so start the engine, open the car bonnet and clamp red alligator clip with positive terminal of the battery and black calligator clip with negative terminal of the battery and can also connect with car body.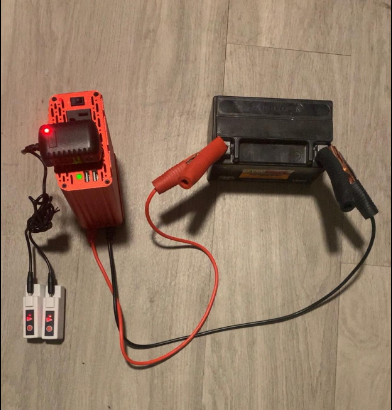 Then you to follow the same rule we discuse above, change the watts and AC voltage according to your laptop charger and charge your laptop. But please before doing all these thing read the Precuations.
You May Also Like: Compare Ryzen 5 and Ryzen 7 processors: Ryzen 5 vs Ryzen 7
Precuations
Well there is some precuations have to be consider.
Do not use power inverter when your car engine is not running because it will affect your battery to drain out.
Do not overpower your power inverter watts it will damage your laptop battery very soon.
When to use Power inverter
After starting a car your car alternator starts to working and starts to charge the Car Battery, now your perfectly ready to use your power inverter whether it is connected to the socket or with the battery using alligator clips, and your battery will not drain out while running engine.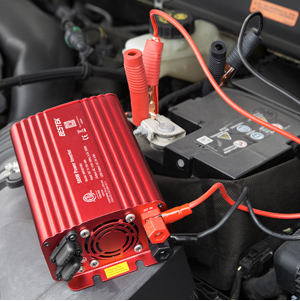 Is Power inverter Dangerous For Car Battery?
No, obviously not the main purpose of power inverter is to help you not to drain out your car battery, But it is up to you how you use it in a right way or in a wrong way when I say right way or wrong way I meant to say that
If you use power inverter on turned off the car so your car battery will drain out, so this is a wrong way, But
If you use your power inverter in idle (running) position, it will not drain out your battery at all, So this the right way.
We discuss about charging a laptop on a car but if still confused about the power inverter so let me tell you some key features about Power Invferter from both types.
You May Also Like: Stay connected without Wi-Fi disruptions: Why does my HP laptop keep disconnecting from Wi-Fi?
Some Key Features
Ok Then, as we know that there is two types of Power inverter so we explain some key feature from both types.
In the first type, we use BESTEK Power Inverter.
It provides 300 watts continuous DC to AC power and 700 watts of peak power.
Its smart cooling fan system makes the car power inverter very silent when operating, and the fan runs faster when the device gets warmer or output power exceeds 70W.
It has a 24 inch long wired cigarette lighter plug that makes the power inverter can be plugged into almost any vehicle.
It provides 1000 Watt of peak power, dual USB ports can charge most laptops, phones, and tablets
In Second type we POTEK Power Inverter
Durable metal housing provides advanced protection from drops and bumps.
A smart cooling fan system makes the car power inverter very silent when operating, and the fan runs faster when the device gets warmer or output power exceeds 70W.
It can provide you max watts continuous 110v AC output. When your vehicle battery voltage is under 11V, it will trigger input under-voltage protection and avoid to drain your vehicle battery.
It comes with Alligator clips so you can connect with the battery to charge your devices.
You May Also Like: Uncover the reasons behind Alienware's price: Why is Alienware so expensive?
Is it possible to charge a laptop in a car?
Possible and very simple, but you have to do it with some precautions and with the power inverter.
Will charging laptop in car drain battery?
Not at all, but if you charge your laptop in not running car then it will drain out your battery.
How long will a car battery run a laptop?
As long as you drive the car.
Conclusion
So the conclusion is to get the power inverter with alligator cable because it will work for both purposes to supply power inside the car or outside the car so if you want to use toaster you probably don't use inside the car, right?
Thank You
Laptopified